Hello to the incredible people who contributed to making my pro-life mision trip to Africa possible! And also to those who just want to know how it went/how it's going :)
It's been over a month since I've left on this mission, and so I wanted to take some time to give you all a bit of insight on the significant difference that your prayers and financial contributions have made.
My original trip was May 13th-May 28th, and the plan was to go to Uganda for about 2 weeks and then to Kenya for a few days. Long story short, I'm still here in Nairobi, Kenya, and will be here until, God-willing, June 20th. I'll explain more about that later...
But let's talk about Uganda first!
The team (3 of us from the USA and 3 from Europe) landed in Entebbe, and from there took about a 5 hour drive to Jinja (it's only supposed to take 2.5, but traffic there can be crazy!) 
Jinja has a lot of different villages, and the main hub is called Jinja Town. We stayed in a Catholic retreat centre there, and drove about 30 minutes each morning to rural Jinja. 
It was in this Planned Parenthood Federation poster-filled, concrete hall in a sun-kissed grassy field that we hosted our 6-day pro-life camp. Each day of camp was entirely different than the day before. Our team covered every pro-life topic under the sun - from fertilitity awareness to human development to abortion types to apologetics trainings - and so much more. 
I spoke on post-abortive healing and resources, synergy and leadership, and what it means to use our creative passions to change the culture for life. The students ranged from high school to young professionals, and all of them had an incredible receptiveness to what they were learning. 
One student, Allan, was particularly invested in my talk about bridging art with pro-life activism, and expressed his interest in Life Dress. Most young people in the area do not have cellphones or any means to access the internet, so it was important to tackle the topic of pro-life businesses from a standpoint that could be acheivable.
So I had the idea to take my workshop to the next level - something very hands-on...  These 70+ students all helped paint a beautifully unique Life Dress Skirt - and it will soon be available for purchase in my shop! 100% of proceeds from this skirt will be going directly to helping Allan and these aspiring pro-life artists launch their own creative, impactful projects.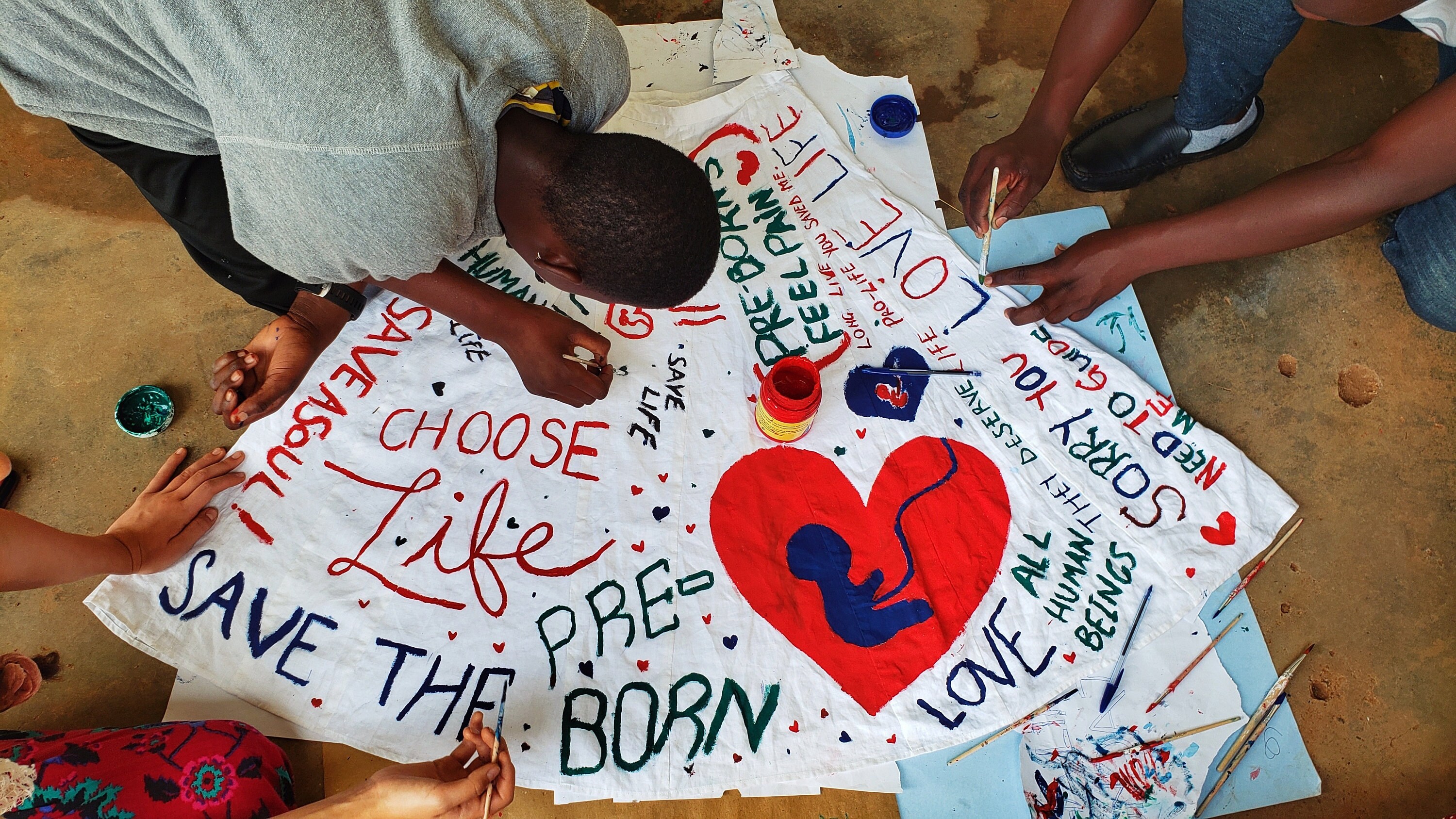 When it becomes available, you can check it out by going to lifedress.org!
Another student, Eric, was admirably proactive in wanting to get the pro-life message out to local schools. One day while doing outreach in the village, he pulled aside myself and another team member and invited us to come speak at Bwanga College (high school level, for those in the states!) It was a wonderfully impromptu opportunity to reach hundreds of students and inspire them to make change in their community. Eric will continue to spread the truth about abortion and now feels ready to speak in front of these schools by himself!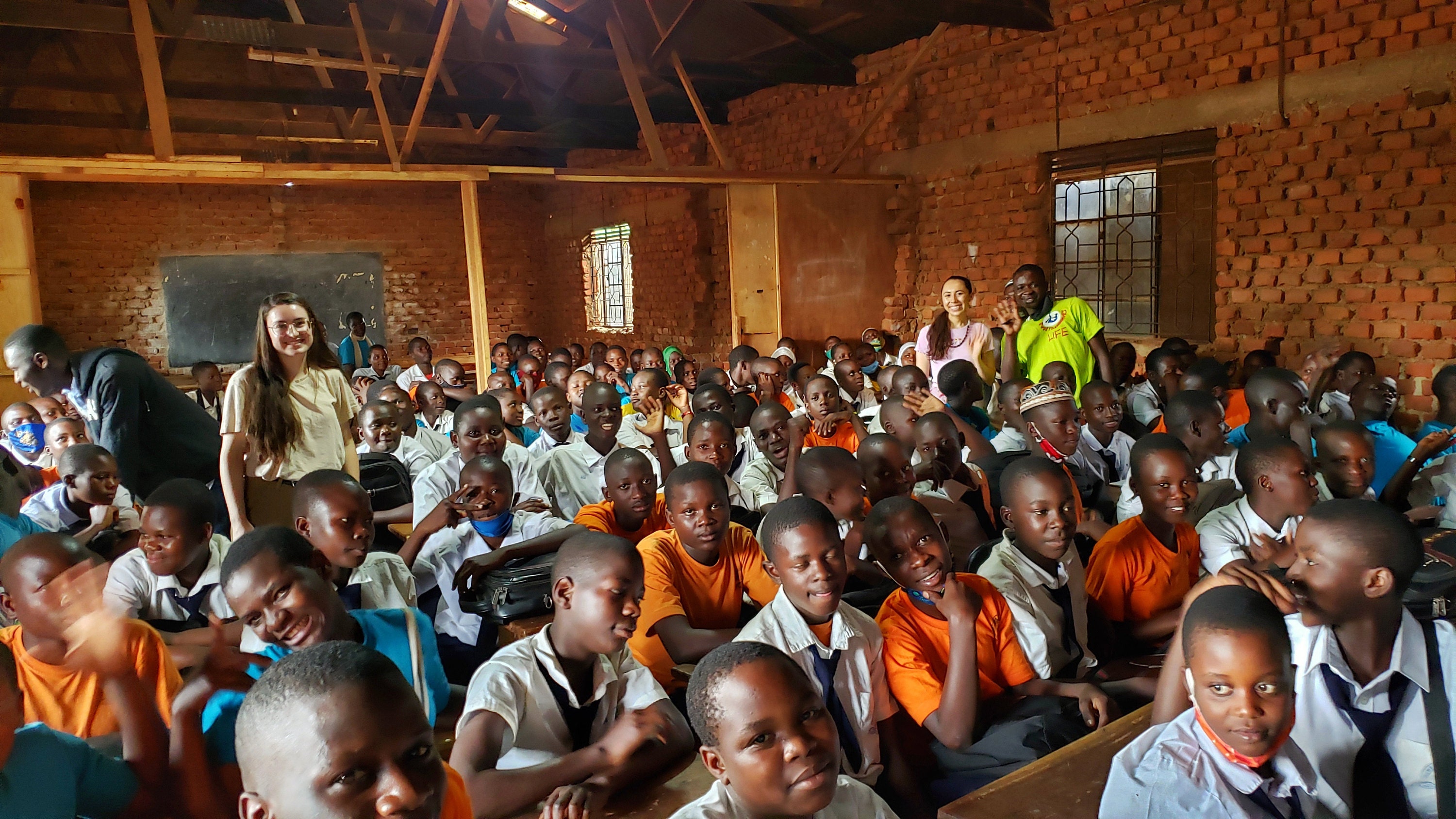 A third student I want to highlight is Suzan. Suzan gave me immeasurable hope for the future of the pro-life movement in Uganda. She is a journalism student (like me!) and she told me, "I want to use this career to be a voice for the voiceless." Similarly to the US, fighting bias in the media is a major problem. Suzan wants to write the true stories of women struggling with unplanned pregnancies in rural Uganda. She wants to create alternative news outlets that expose the reality of abortion.
The pro-life camp in Uganda was phenomenal beyond words. Yes, there were challenges. Many of them. But knowing these students left every day feeling empowered and equipped to abolish abortion made everything worth it.
And we also had a lot of fun along the way! The students in my workshops were able to paint t-shirts, have a night of dancing, and played games of soccer!
After ending the camp in Uganda, we also had a chance to visit two local young women who had chosen life for their babies and I even had the immense blessing of being able to hold one of them! She is 1-month-old and truly precious! Life is not easy in these villages. This mother is living in a one-room home with a dirt floor, no door, no kitchen, no bathroom, and only one bed for multiple family members. But she overcame the hardships and rejected ending her baby's life. The joy amidst the suffering is visible and powerful.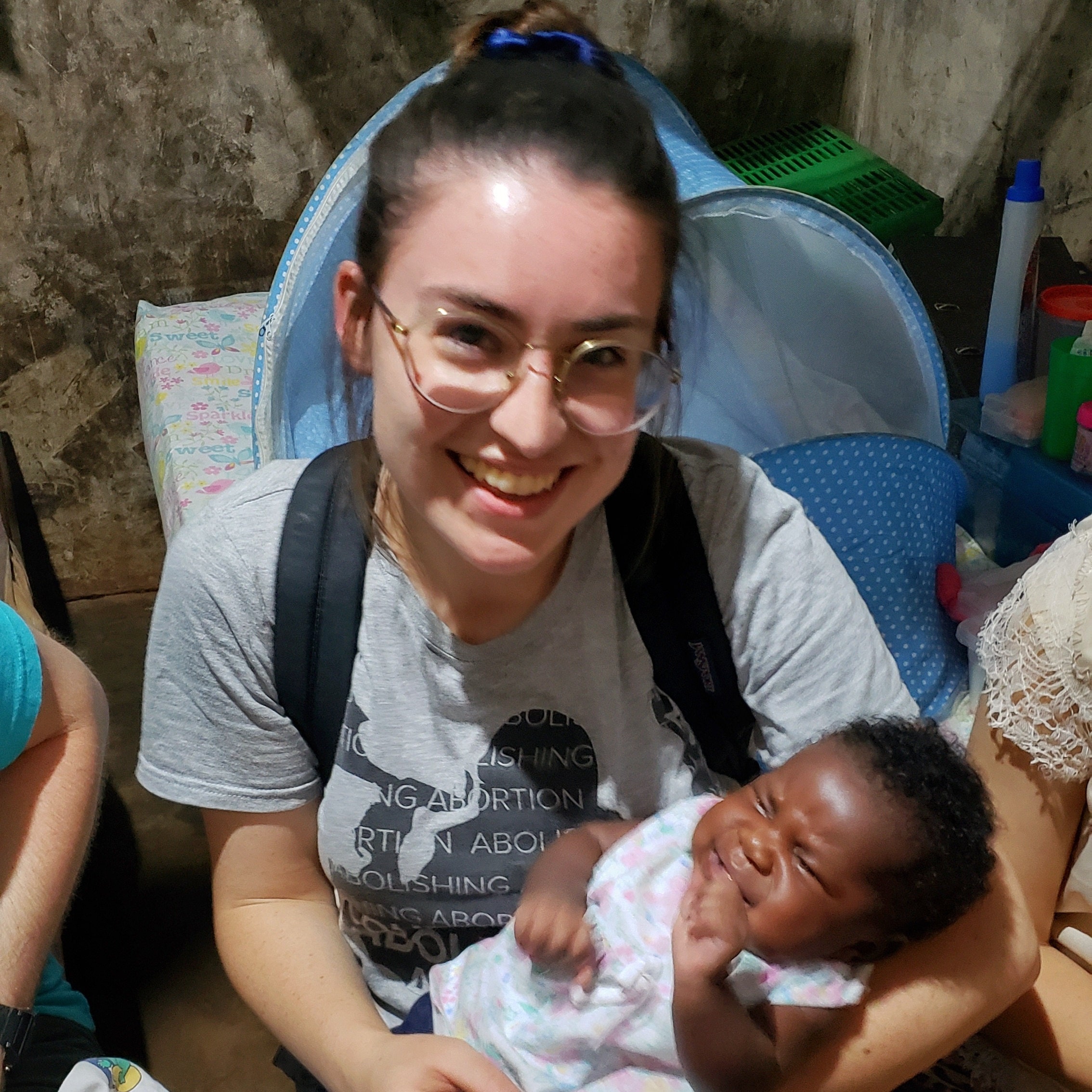 Once we said our reluctant goodbyes (aka more like see you next time's!) to the students, the team took a quick break to visit a game park. We saw so much of God's beautiful creation. From the insanely intense Murchison Waterfall to a sunrise drive to see giraffes, elephants, lions, and antelope in the wild!
Then on to Kenya!
Got my negative COVID test and boarded the plane from Entebbe, Uganda to Nairobi, Kenya.
We stayed in the Franciscan Family Centre, in Karen, and hosted a 2-day pro-life conference for university students. I befriended so many strong advocates for life who were eager to know more about strategizing their efforts for the movement. I spoke on my journey suing my school to start a pro-life club and the bigger picture of how to handle the backlash that comes with speaking the unpopular truth.
I was supposed to return home on the 30th of May. But I tested positive for COVID and had to isolate for 10 days.
After those 10 (long) days in my little room in the Franciscan Centre, I was considered recovered and could go back to normal life. But "normal life" doesn't include flying in a commercial plane. So in order to do so I needed a negative test.
3 retests and even a doctor's note saying I'm no longer contagious (since day 3) later, I'm still positive and unable to fly home.
Maybe I couldn't fly, but I could still make a difference while I was here! So once we were cleared medically, myself, along with one other team member who was also done with quarantine, set off to connect with local organizations. And also create massive plans for the future of global pro-life activism! (hint: I'll be doing this mission work again very soon all over the world!)
While here, I was able to walk through the Kibera Slums, the largest urban slum in Africa, as well as the Mukuru Slums. I attended and spoke at a local village meeting. I heard from dozens of young women who chose life for their babies!
Words & photos are truly difficult to do life-changing experiences any justice. But I'm trying! :) So where am I now? I'm currently typing this in a Carmelite Retreat Centre in Nairobi, Kenya. Listening to the birds outside my window, appreciating the beauty of this place for as long as I can. 
Yes, I wasn't intending to be here right now. Or last week, or the week before that, or the rest of this week. But God works in very mysterious ways.
After being a continuous positive tester and not being able to fly home again last night, I came to this Carmelite Centre to stay for the next week and the first thing I saw when I walked in was a sign with the quote from St. Teresa...
"Trust God that you are exactly where you are meant to be." Everything happens for a reason, and I know there is a reason why I'll be staying in Africa for over a month. 
I praise God for all the things that go right, all the things that go wrong, and for the things that are unfortunate and frustrating in the moment but beautifully perfect when we look back with faith.
Even though there is no way to contain every special moment and impactful event that occurred during this mission in an email, I wanted to give you all a glimpse into the difference your support has made. The pro-life generation is alive and well in Uganda and Kenya, and will only grow from here!
Thank you for reading this, and most especially thank you for supporting me.
You all have been in my prayers as I've been venturing through this mission trip. 
I could not have done this without you. 
I may be physically alone here in Kenya for a little while longer, but I know spiritually I will never be.
May God bless you and keep you safe and joyful.
For life with love,
Angelique